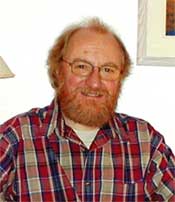 Trevor loves working with executive teams to crack the corporate spells they labour under through improving human relationships He identifies the 'bottom line' as the most important spell to crack by encouraging executives to keep their eyes on the ball rather than on the score. His background is business and organisational development, but says that it's "my training in Gestalt that enables me to bring a touch of magic to my work".
Trevor's written over 30 books on business, including Bridging the Performance Gap (Gower), Effective Performance Appraisals (Spiro Press), Facilitation, Creativity and Teamwork (McGraw-Hill and the space between). One of his most recent works, A Touch of Magic describes how our Gestalt approach to organisational work can support leaders and consultants to bring a touch of magic to their work, leading to extraordinary results. This is continued in his latest books Advanced Facilitation and Moments of Leadership – leadership with a Gestalt focus, co-authored with Howard.
Trevor has a PhD in business and organisational development, is a Fellow of the Chartered Institute of Management Accountants and is trained in Gestalt therapy.
He is a founding partner of the space between. Trevor is based in the pretty village of Nailsworth the English Cotswolds.
Contact Trevor: trevor@thespacebetween.com.au

Our partners

Home